Microfluidics-based Assays
Microfluidic chromatin immunoprecipitation (ChIP) for analyzing histone modifications in neonatal mouse brains
Smart device-based systems for in-situ chemical/biological analysis
Microreactor technology
Open-source instrumentation
Figure 1. (Left) Chromatin immunoprecipitation (ChIP) procedures. (Right) Microfluidic ChIP. Schematic diagram of performing ChIP assays in the microreactor: 1. The microreactor is packed with functionalized magnetic beads. 2. Fragmented chromatin and the histone antibody are loaded into the microreactor. 3. Proteinase K is added to remove histone proteins. 4. Eluted DNA is purified and analyzed by PCR amplification. B. Image of the microreactor with a rare earth magnet at the center.
In eukaryotic cells, genomic DNA is packaged with histone proteins, forming chromatin. Histone modifications occurring on specific genomic loci have been linked to regulation of chromatin structure and thus gene transcription.
Chromatin immunoprecipitation (ChIP) has become the primary technique used to identify the genomic regions containing targeted histone modifications (Figure 1). Conventional tube-based ChIP assays are time- and labor-consuming and require a large amount of samples, reagents, and multiple tedious steps.
To solve these problems, we are developing miniaturized ChIP assays on a microfluidic platform by creating a PDMS microreactor packed with functionalized magnetic microbeads. This device has been used to explore potential applications of microfluidics-based ChIP assays to analyze histone modifications occurring at the promoters of selective genes expressed in the developing mouse brain.
Integration of paper microfluidic devices, 3D-printed attachments, and a smart phone
Determine the nitrite concentration in water samples from Port of Los Angeles and Port of Long Beach using a colorimetric assay
Applicable to emerging contaminants, such as pharmaceuticals, illicit drugs, and personal care products, with an appropriate combination of chemistry and microchip design
Ref.: J. Environ. Monit., 2002, 4, 465–471
Design and construct integrated, microfluidics-based systems for rapid, high-yield flow chemistry
Sample reaction: Synthesis of bicyclic lactams for pharmaceutical applications
Sample reaction: Synthesis of alginate microbeads
Fabrication of micro-/mini- reactors via 3D printing using alternative materials, such as engineering plastics and clay
Ref.: Tetrahedron Letters, 54 (2013) 562-567
Design and construct instruments for research and education using 3D printing and open-source software and electronics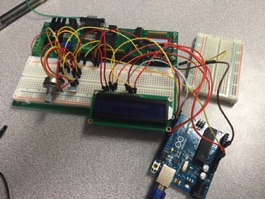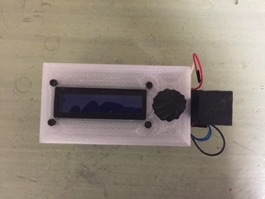 Open-source spectrophotometer constructed with an Aduino board and 3D-printed enclosure.