Ada Byron King
Countess of Lovelace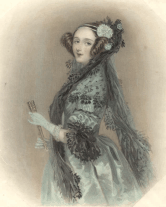 (1815-1852)
The poet Lord George Gordon Byron, an infamous ladies man, married Anne Isabelle Milbanke on January 2nd 1815 at the urging of Anne's aunt (and Byron's confidant) Lady Melbourne. Byron was at the end of a scandalous affair with Lady Caroline Lamb, the wife of Anne's cousin Sir William Lamb. Augusta Ada Byron was born December of that year. However, the couple separated in January 1816, a mere month after Ada was born amidst rumors of an affair with Augusta Leigh. On April 25th 1816 Lord Byron left England never to return after signing the legal separation papers with Anne. In 1824, after a prolonged sickness, Lord Byron died in Greece, where he had been aiding in the war for Greek independence. Ada was eight years old and had never seen her father after 1816 when she was less than one year old.
Lady Byron, who was an active but distant parent, had been declared sole custodian of Ada in 1817. She envisioned a path for Ada that would take her far from her father's poetic interests and lifestyle. Lady Byron, whom Byron had once called "the Princess of Parallelograms," sought to educate Ada in mathematics and science. Though Lady Byron discouraged more literary pursuits, she did encourage Ada to develop musically. When Ada strayed from this often rigorous course of education, Lady Byron was known to punish her by making her lie motionless, making her write apologies, or giving her solitary confinement.
Ada, for her part, resisted the exclusion of poetry and literary pursuits and even her mathematical and scientific thought had an imaginative and poetic flare. She was given more time and emotional nurturing by her grandmother Lady Noel (Anne's mother who died in 1822) and later by Mary Somerville whom she met in 1834. Mary Somerville provided Ada with mathematics texts, problems, and educational advice. Their relationship provided Ada with a more balanced view of mathematics and science.
Summerville was herself a quite remarkable person. Though only given a quite spotty and superficial education as a child (usual for the time), Somerville educated herself quite admirably. She was only the second woman to read a paper at the Royal Society and publish in its Proceedings. She went on to write numerous scientific works including texts that became required reading for higher mathematics at Cambridge.
In 1833 at the age of 17 Ada Byron met Charles Babbage at a party. Shortly thereafter they visited Babbage's studio in London where the the prototype of Babbage's Difference engine was on display. This was the beginning of a lifelong friendship and collaboration with Babbage.
In 1835 Ada married William King. Ada King became the Countess of Lovelace when her husband was made an Earl in 1838. King appears to have been devoted to Ada, though he was by no means her intellectual equal nor a forceful personality. The couple had three children; Byron, Annabella, and Ralph Gordon. The couple were married until Ada's death in 1852, though Ada reportedly flirted with several of her male acquaintances and several scandals involving Ada marked the years of their marriage. After her death King destroyed over 100 of her letters to male friends. Additionally, Ada drank too much, and her drinking worsened over the years. She even purportedly contemplated a scientific account of the effects of opium and wine based to some extent upon her own use. She gambled on horses and involved Babbage in at least one money making scheme to cover her gambling loses. At one point she pawned some of her jewels to pay gambling debts. She owed 2000 pounds in gambling debts when she died.
1841 found the Countess of Lovelace studying advanced with Augustus De Morgan. Ada had long known Sophia Frend, De Morgan's wife of four years. Sophia Frend's father had tutored the young Ada Byron in mathematics.
1850 found Ada in declining health and spirits. She became estranged that year with her mother. Lady Byron's deceit and manipulation in demonizing Lord Byron and shaping Ada as his antithesis had ironically driven a wedge between mother and daughter.

In 1852, Augusta Ada the Countess of Lovelace died a victim of the cancer which had likely been undermining her health for years.
Links